Tiova Inhaler
---
Product availability
---
$15.00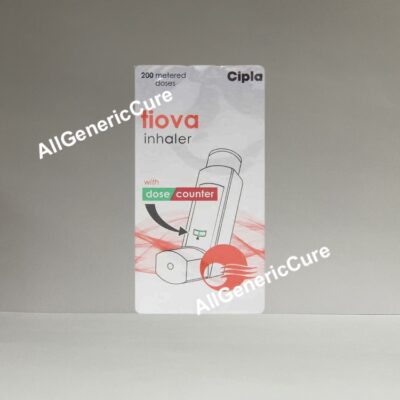 Tiova Inhaler
$

15.00
---
Product availability
---
$15.00
What is Tiova Inhaler?
Tiova Inhaler is an Inhaler that helps in easing to breath easy for a person suffering from COPD. COPD or chronic obstructive pulmonary disease is a disease in which it becomes difficult to breathe properly due to narrowing of the passage of air. Making it difficult to breathe. Tiova Inhaler 9 mcg contains Tiotropium Bromide as its active ingredient.
Tiotropium inhaler is used to get relief from chronic obstructive pulmonary disease. It works quite effectively against bronchitis, emphysema. Tiova Inhaler contains Tiotropium which is a 24 hours long-acting medication that acts on the nerves directly which makes the movement of all the muscles smooth and eases the air to move in the air passage.
Tiova Tiotropium Bromide inhaler uses?
Generic Spiriva contains Tiotropium Bromide as its active ingredient. It is used in treating COPD. Chronic obstructive pulmonary disease is a disease in which there is an obstruction in breathing which is caused due to obstructions. When a Tiotropium inhaler is used, it works by acting on the nerves directly for as long as 24 hours. Giving instant relief by relaxing the muscles and reducing the stiffness of the muscles in the breathing passage.
Tiova Inhaler manufacturer?
Generic Spiriva is manufactured by Cipla Pharmaceuticals.
Tiova Inhaler price?
Per price, inhaler is $15.00. Get at the cheapest price at Allgenericcure.
What is the brand name of Tiova inhaler?
The brand name of the Tiova inhaler is Spiriva.
Can I buy Tiotropium Inhaler online ?
You can buy Tiotropium Inhaler online for a cheap price at Allgenericcure. According to United States Authority, this inhaler is a maintenance inhaler for treating COPD. It is availed in various countries
USA
UK
Australia
Singapore
Thailand
China
France
Spain
How many doses are in Tiova inhaler?
There is a total of 200 metered doses in each pack of Tiova inhalers.
Side effects?
Headache
Dry mouth
White deposit on the tongue
Urge to cough
Dizziness
Bad smell
Alternatives?
Some of the COPD medication substitutes/alternatives
Looking for medications for Asthma? Get Asthalin Inhaler and Foracort Forte Inhaler for a cheap price.
Where to buy tiotropium Bromide inhaler cheap price online?
Buy Tiova inhaler with tiotropium Bromide for cheap at Allgenericcure.
FAQs
Side effects of Tiotropium Bromide Inhaler (Tiova Inhaler)
Some of the side effects are Mouth Dryness, Sneezing, Headache, Throat infection, Bronchospasm Chest pain
Only logged in customers who have purchased this product may leave a review.